Shared Cloud
Flexible & Cost effective
100%
Flexible
100%
Scalable
100%
Security
This option is ideal if you want to bring certain processes to the cloud quickly and inexpensively, and to adapt resources as needed.
You have the choice between different availability zones, CPU and storage classes and can optionally also use a backup as a service. Your cloud runs on a VMware infrastructure and is connected to Telehouse's own multi-homed Internet platform.
We'll set up your own Virtual Data Center (VDC), which you can manage through a self-service portal and expand at any time to meet your IT needs.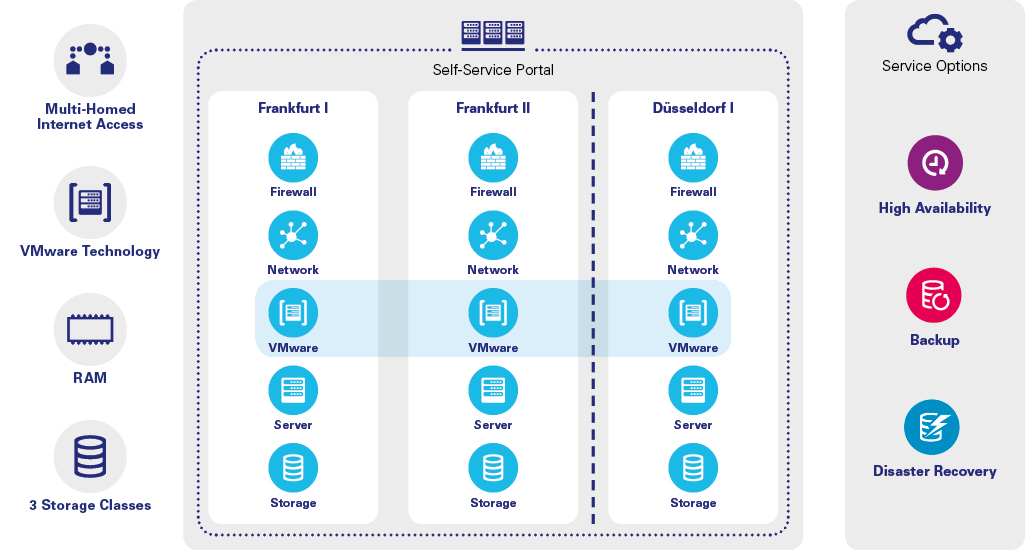 Setup virtuel datacenter:

We are setting up your resource pool (VDC) on our cloud infrastructure. With these cloud resources, you can set up, configure and manage your virtual machines through a self-service portal, whereby we gladly support you with suitable services.

Monitoring and Operation:

The Cloud Infrastructure (Hardware & Software) is monitored by the Telehouse Network Operations Center (NOC) 24×7. At any time, the customer has the opportunity to check the utilization of his workloads via the self-service portal.

Geo-redundancy:

A second, redundant cloud infrastructure is available on our campus in Frankfurt. In addition, a third location (Dusseldorf) can be integrated for "geo-redundancy", whereby different availability zones can be realized at a distance of up to 200 km.
Connectivity:

Via DC Connect, we connect you directly to the world's most important Internet exchange nodes (New York-NYIX, Frankfurt-DE-CIX).

Cloud Link:

Telehouse's cloud link connects you to all the leading cloud providers.

Backup as a Service (BaaS):

Based on proven Veeam technology, you can back up your VMs / workloads to the Telehouse cloud in appropriate cycles and according to required guidelines.

Disaster Recovery as a Service (DRaaS): 

Various DR solutions are available to help you dedicate different scenarios to availability or map them to Telehouse's public cloud.
Your benefits with Telehouse
Your infrastructure and all data are completely in the data centers of Telehouse Germany. They belong to us 100%, and we operate them 100% ourselves.
We guarantee you the highest building standards and operational safety and continuously optimize these parameters. Our data centers are ISO/IEC 27001:2013, ISAE 3402 Type 2 and PCI-DSS certified.
We give you the freedom you need: Choose from four pre-configured cloud packages and combine them with storage capacity. In addition, any individual configurations are possible. This allows you to always flexibly adapt your cloud resources should your needs change.
We guarantee the cloud operation according to German law and law with security and data protection.
If desired, you can also leverage an international cloud structure in Telehouse's more than 40 global data centers. You only need one contact person for this.
As a subsidiary of KDDI Corporation (the second largest Japanese telecommunications company), we are part of a globally successful group and benefit from its financial strength, economic stability and sustainable growth strategy.
100 %
flexible.
Public Cloud from Telehouse.
Further information about Cloud
"Shared Cloud"
This option is ideal if you want to bring certain processes to the cloud quickly and inexpensively, and to adapt resources as needed.
learn more
"Private Cloud"
Telehouse's Private Business Cloud lets you leverage the infrastructure and resources you need to meet your needs.
learn more
You have questions concerning our public cloud services, interest in our solutions or would like to get to know us? We look forward to you!